News
Deborah Wiles' Wild Flowers of Nova Scotia
June 14, 2012: Artist Deborah Wiles has created a series of 50 paintings featuring Nova Scotia's wild flowers to raise funds for a modest International Artists' Retreat that she is building at a rural Nova Scotia site. The Wildflowers of Nova Scotia Benefit show and sale is happening on June16th, 2012 from 3-9pm @ 69 Olive Avenue, Toronto, Ontario. They can also be purchased online. See Beaked Hazelnut, Jack in the Pulpit, Painted Trillium and many more beuatiful paintings on her
website
.

N.S. Wetland Courses
March 10, 2012: The Fern Hill Institute for Plant Conservation in assocation with the K.C. Irving Environmental Science Centre is offering four practical 3-4 day wetland courses in 2012.
Details
The True Spring Ephemerals in Nova Scotia
Apr. 5, 2012: A photo-essay by JackPine posted in the Articles section of our website cites 5 species in N.S. as belonging to the guild of spring epehmerals. They are found in rich hardwood forests and intervales. The exotic and invasive garlic mustard (
Alliaria petiolata
) poses a threat to these species. See
article
Roland and Smith now available online
Feb 15, 2012:
The Flora of Nova Scotia
by A.E. Roland and E.C. Smith, published originally in the Proceedings of the Nova Scotian Institute of Science, is now available on DalSpace.
Read more

Beetle on the move, but is it responsible
for declines in health of red spruce?
Feb. 10, 2012: The exotic brown spruce longhorn beetle (BSLB) was reported in Kouchibouguac Park, N.B. in Aug 2011, the first report for a site outside of N.S. It was first discovered in Point Pleasant Park (Halifax) in 1999. An article by entomologist Chris Majka in the current (Jan/Feb 2012) issue of
Rural Delivery
provides a good overview of the spread of BSLB and of the relevant issues.
Read more
Dorcas Copper butterfly at Black River Fen, Inverness Co.

Jan 30, 2012: John Klymko et al. recently reported occurrence of the rare Dorcas Copper butterfly (
Lycaena dorcas
) in a rich calcareous fen at Black River, Inverness County. It's typically associated with shrubby cinquefoil (
Dasiphora fruticosa
ssp.
floribunda
). Read more about this butterfly and its habitat at Black River in the
Journal of the Acadian Entomological Society.
Angevine Lake
Dec. 8, 2012: Angevine Lake is the largest lake in Cumberland county, Nova Scotia and the closest to the Northumberland Strait. It has the highest documented biodiversity for herpetological species in the province (salamanders, frogs and snakes) and is the only crown owned site for the endangered Ram's Head Lady Slipper.
Read More
.
Native Plant Talk Series
Jan 18, 2012: Six talks (March 1 to May 10th) at North End Library, Halifax, on gardening with native plants & pollinators, medicinal uses, permaculture, soil management, plant identification. Organized by
Ecology Action Centre
.
Read more
Thoughts By A Stream.. and for the New Year
Jan 1, 2012: Landscape painter Mark Brennan shares scenes and sounds from the Acadian Forest in this and other
video
and
audio
recordings.
The Acadian Forest, The Story So Far
includes some wonderful scenes of spring ephemerals.
Strathgartney Provincial Park in PEI: Good News.
Dec 20, 2011: Strathgartney is a protected area because it contains the last example of pure beechwood. The provincial government was considering rerouting the Trans-Canada highway through Strathgartney Provincial Park. Sharon Labchuk wrote on Dec. 15th that 2,748 people signed the petition (prv. posted here). GOOD NEWS DEC 20th: The Guardian reports
After public consultations, the province will move ahead with new plans to re-align the Trans-Canada highway in Churchill, New Haven and Bonshaw without paving a portion of Strathgartney Provincial Park, says Transportation Minister Robert Vessey. "Islanders spoke, and we listened," said Vessey. "The new alignment we plan to build not only addresses safety concerns in all three communities, but it also steers clear of Strathgartney Provincial Park and nearby protected lands. We believe this new alignment greatly improves safety and efficiency, and strikes a balance between the goals of the Atlantic Gateway and the wishes of residents."

Avon Peninsula
Nov. 15, 2011: Plans for a gypsum mine in a hotspot for species at risk stalled in 2010 but were not off the table. On Nov 14, 2011 Fundy Gypsum announced it is permanently closing the mine. It's time to pursue truly sustainable alternatives! Read more
More News (Jan 4, 2012) : A new trail at Avondale will showcase lady's slipper orchids.
See Nova News.
Comprehensive Forest Ecosystem Classification Guides for Nova Scotia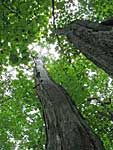 Sept. 12, 2011: The N.S. Dept of Natural Resources recently completed a ten year study of 1500 Forest Ecosystem Classification plots in N.S. and has published a comprehensive set of guides which are available as PDF documents:
Part I: Vegetation Types
,
Part II: Soil Types
and
Part III: Ecosites
.
Rosa rugosa as an invasive species on coastal sand dunes in Nova Scotia
Sept. 8, 2011: A study published in 2010 by Nicholas Hill and colleagues documents invasion of coastal dunes on western Cape Breton Island and the mainland of northern Nova Scotia by
Rosa rugosa
, a common ornamental rose of east Asian origin, and provides evidence that the native dune communities are being negatively affected. They note that "In general, heavily colonized beaches were found adjacent to communities where extensive domestic planting and hedges of
R. rugosa
occurred and where escapes onto roadsides had occurred." See
article
.
New Guide to Atlantic Coastal Plain Flora
Aug 28, 2011: A newly released Identification and Information Guide for the Atlantic Coastal Plain Flora in Nova Scotia is available online in English and French versions. The Guide, produced by produced by Megan Crowley (Parks Canada) and Lindsey Beals (MTRI), provides photos, descriptions and distribution maps for 87 species. See
Guide
.
Indian Path Common: Its Flora, Fauna & History

Jul. 26, 2011: This well illustrated guide to Indian Path Common near Lunenburg will be of interest to naturalists and others who enjoy the south shore of Nova Scotia. Copies will be available at our AGM on April 28, 2011. It includes chapters on Mosses by Anne Mills, Lichens by Frances Anderson, Fungi by Catherine Pross, the Rock Record by Barrie Clark, Birds by James Hirtle and the species lists for vascular plants, fungi, lichens, mosses & liverworts.
Read more
August 2011: Natural Resources Strategy released.
Two documents, released on Aug. 16th August 2011, outline the province's long awaited Natural Resoucres Strategy:
The Path We Share: A Natural Resources Strategy for Nova Scotia, 2011-2020
is a 10-year plan for Nova Scotia's natural resources.
From Strategy to Action
cites 32 early actions. See
Press Release
and
Download Documents
April, 2011: Nova Scotia Environment announcements about new wilderness areas
Boundaries have been released for Proposed Wilderness Areas in Cumberland County and a consultation concerning addition of 23 areas recently purchased from individual landowners, forestry companies, and the Nature Conservancy of Canada.
Read more
March, 2010: Western Common Wilderness Common: Feedback and Open House
HRM is seeking feedback on on its recently released Draft Master Plan for the Western Common Wilderness Common by April 14th, 2010. It is also holding an open house on Wednesday, April 14 from 6:30-9:00 pm at Brookside Jr. High School, 2239 Prospect Road. See
HRM Website
for the plan, where to submit comments and details of open house.
March, 2010: Consultations for Candidate Wilderness Area
Mar. 8, 2010: Public consultation for the Five Bridge Lakes candidate wilderness area is now underway. A page on the N.S. Environment's website provides a consultation newsletter, background documents, dates of open houses (March 10, 24, 27th), locations of information displays (available March 1 to 31). See
NSE website
. See pages under the Five Bridge Lakes Wilderness Area tab at left for some background.
May '2009: Cape Split Provincial Park Reserve Management Plan
DNR has posted a preliminary management plan for Caoe Split and is is hosting two open house events to encourage public participation in the development of this plan. The first is being held on Thursday May 28 at the Scots Bay Community Hall, Highway 358, Scots Bay. The second open house is on Thursday June 4 at Clark Commons, University Avenue, Acadia University, Wolfville. Both open houses will run from 4 pm to 8 pm.
More details
Oct. 18, 2008. Point Pleasant Park restoration plan
HRM council gave formal endorsement to the Point pleasant Park Comprehensive plan for restoring and improving PPP after the ravages of Hurricane Juan. The plan can be downloaded from the
PPP website
. This 312 page document, with numerous photographs, summary tables and maps, is a treasure trove of information about the natural and human history of the Park and lays out very clearly the principles and details of the proposed management for the next 50 years. "The goal of the Comprehensive Plan for Point Pleasant Park is to achieve a balance: a distinctive landscape with clearly presented historic features in an Acadian forest setting. A landscape where cultural heritage and natural resources enhance each other and are balanced with recreational uses that respect the Park's sustainability principles." (From the Preamble to the Comprehensive Plan).
Oct. '08. Lichen workshop at Mersey Tobeatic Research Institute
As a follow-up to one-day workshops held earlier this year, Josie Todd announced in October '08 that "We are in the process of organizing a 4-5 day course on lichens to be held in southwest Nova Scotia some time in the coming months. The course would include accommodations and offer more in- depth training on lichens, with a special focus on the environmentally sensitive cyanolichens. " If interested, please contact Josie via josie.todd@merseytobeatic.ca.
July '2008. Designation of the Blue Mountain-Birch Cove Lakes Wilderness Area.
Public input sought by Aug 22, 2008.
Details
Dec. 8, 2007. New Wilderness area
in the works for the Ship Harbour Long Lake area of HRM.
Details
Oct. 30, 2007: Blue Mountain - Birch Cove Lakes : New Wilderness Area
Nova Scotia Environment and Labour and the Department of Natural Resources announced today that the province will designate a new wilderness area on Crown lands of the Blue Mountain - Birch Cove Lakes area of HRM, between Kearney Lake and Timberlea.
Details
Oct. 10, 2007: Rockrose and Ram's-Head Lady's-slipper added to Nova Scotia's Engdangered species list
See
Canadian Press article
and
DNR's List
.
July 26, 2007: Purchased Bowater Mersey lands to become protected areas.
Details
June 1, 2007: Blandford Game Sanctuary, Lunenburg County
On May 11, 2007 the Minister of Environment and Labour announced that a new Nature Reserve would be established on the Crown lands within Blandford Game Sanctuary, Lunenburg County.
Details
May 22, 2007: Gypsum flora on the Avon Peninsula (N.S.) threatened by new Gypsum Mine
.
Details