Wild Flora and Habitat in Nova Scotia
The Nova Scotia Wild Flora Society is dedicated to the appreciation and conservation of wild flora and habitat, especially in Nova Scotia. A non-profit organization and an affiliate of the North American Native Plant Society, the society welcomes all people who are interested in native flora. Members meet regularly on a social basis to host speakers, plan recreational field trips, and organize other events.
This web site serves to create awareness about the Nova Scotia Wild Flora Society, and to be a source of information for topics of interest to all wildflower enthusiasts.
Please read the President's Welcome.
Issues, Events, Workshops
Upcoming NSWFS Events:
Check
Programme
for upcoming NSWFS meetings and field trips.
Green Network Maps are now available online - until ~mid May only (2016)
The Green Network Maps are now available online. Please leave positive comments for the natural areas you care about that the maps have recognized as valuable. ItÕs a big, interactive map so you will want to use a good internet connection. Here is the map:
http://engage.o2design.com/halifax/engagemap2/
There are seven maps, but the most impressive is the Indispensable Patterns & Highest Ecological Values. Our HRM Alliance is hosting
a session to help anyone give input on the Green Network Online Map at the Ecology Action Centre on Thursday May 5
. They will also be offering pizza :) 4:30-7:00. (Drop in anytime at your convenience.) Ecology Action Centre, 2705 Fern Lane, Halifax
Nature Conservancy of Canada Protects Important Nova Scotia Coastal Habitat for Waterfowl and Rare Plants
From the Press Release (Roberts Island, Nova Scotia. April 15, 2016):
As part of National Wildlife Week, the Nature Conservancy of Canada is pleased to announce it has finalized the acquisition of a 20 hectare (50-acre) site on Roberts Island, located on the west side of Lobster Bay in Yarmouth County, Nova Scotia. The property contains critical salt marsh used year-round by black ducks and seasonally by long-tailed duck and green-winged teal. The salt marsh is also home to the Eastern baccharis (Groundseltree), a rare plant in the group of Atlantic Coastal Plain Flora. Lobster Bay is the only place in Canada where Eastern baccharis is found. There are 20-30 of these plants on the property, out of a total Canadian population of approximately 3000 plants.
Read more
Check
Programme
for upcoming NSWFS meetings and field trips.
Anti-Biomass Petition
March 5, 2016:
An
Anti-Biomass Petition
("Stop destroying Nova Scotia's forests for biomass power generation") has garnered more than 25000 signatures in less than 10 days. Started by a St. Margaret's Bay resident, it elicited a
Bruce McKinnon editorial cartoon
in the CH.
Read more in CH
. The
petition
remains open.
Native Plant Ecology Research Talks
Slides from the five, 15 minute presentations to NSWFS meeting on Oct 26, 2015 are posted under
Articles
on this web site. Many thanks to the presentors Emily Walker, Logan Gray, Natasha Daze Querry, Amy Heim, Jeff Barrelland, and to Caitlin Porter for this well attended, informative evening on plant ecology!
Seaweeds of Gaff Point/Hirtle's Beach
7 Oct 2015: We have recently posted a wonderful set of photographs by Catherine Pross on the seaweeds of Gaff Point/Hirtle's Beach on the south shore of Nova Scotia. She made collections between 2002 and 2004 with the collaboration of seaweed expert Carolyn Bird. View
seaweeds
Eagle Hill (Maine) Fall Weekend Workshops 2015
14 Sep 2015: "The Eagle Hill Institute is pleased to announce its series of Fall Weekend Workshops for 2015....Workshops begin with a Friday afternoon arrival and dinner at 6:00 p.m., followed by
an introductory lecture. Saturdays and Sundays are full workshop days that combine field trips, lectures, and lab studies, with meals serving as relaxed settings for informal discussions. Evenings are set aside for discussions by the fireplace in the dining hall's comfortable lounge or for follow-up classroom activities. Each workshop concludes about 4:30 p.m. on Sunday to allow for travel time home. Participants are invited to extend their stay in order to study, relax, browse the InstituteÍs 7,000 volume natural history library, or explore our stunningly beautiful coastal region of Maine." Lichens, Mosses, Woody Plant ID amongstnthe topics. View
details
.
Hike, Bike & Paddle the Greenbelt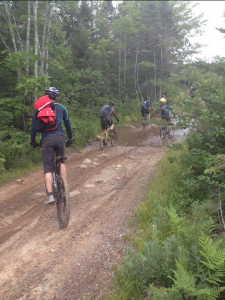 A focus on
The Chebucto Peninsula
in the final days of Hike the Greenbelt:
Sunday, August 09
,
BIKE: OLD SAINT MARGARET'S BAY ROAD
Wednesday, August 12
,
RUN OR HIKE: THE BLUFF TRAILS
Saturday, August 15
,
BIKE: HALIFAX URBAN GREENWAY-CHAIN OF LAKES TRAIL-BLT TRAIL
Sunday, August 16
,
HIKE"MCINTOSH RUN
Monday, August 17
,
PADDLE: INGRAM RIVER
Please come out to as many of these events as you can to show support for the
Halifax Green Network
initiative.
Sat. July 25: Guided hike on the St. Marys River
Join the Nature Trust, Halifax Field Naturalists and special guest Bob Guscott (forest ecologist) for a guided hike to explore this beautiful, newly-protected property on the St. Marys River, north of Sherbrooke. Learn about the endangered bird and turtle species that depend on this river and its habitats, and experience rare and unique old-growth and floodplain forests. Please note that this property has no trail so the hike will be moderately challenging.
When: July 25, 2015 (1-4 pm)
Where: Glenelg, Guysborough County (St. Marys River) contact us for directions.
For more information and to RSVP email nature@nsnt.ca or call (902) 425-5263.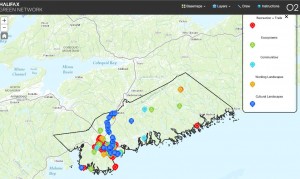 Contribute to Online Map for Halifax Green Network - by June 30, 2015
Wild flora folk are are encouraged to provide input to the Halifax Green Network Plan (HGNP) by adding pins/descriptions to the HGNP online mapping tool to identify lands are that important for biodiversity conservation and ecosystem services.
Read more
Some Highlights of the Nova Scotia Flora
NSWFS prepared a five-slide Power Point presentation for the New England Botanical Club's 120th Anniversary celebration in June. They want to promote and highlight activities of botanical clubs in the northeast. This presentation with those of other botanical organizations will be combined "into a single show that will rotate automatically during check-in and breaks at the conference."
View presentation
(as PDF).
Conservation Links
See our recently updated page of
Links: Conservation/Species at Risk
for a comprehensive list of online sources of information related to plant and habitat conservation in Nova Scotia.
Norris Whiston's Index & Keys for Trees & Shrubs of the Maritimes by Todd Boland (2012)
As a follow-up to Norris's presentation to the NSWFS on Identification of Forest Flora in the Field (Monday November 24, 2014), Norris is making his index and keys available here.
Read more
Nova Scotia Plants e-book launch Thurs. Oct 30, 2014
Oct 25, 2014: NS Wild Flora Members & friends are invited to the launch of
Nova Scotia Plants
, an e-book by Marain Munro, Ruth Newell and Nick Hill at the NS Museum Thurs. Oct 30, 2014 at 2PM.
See Poster
Mushroom Foray Sep 26-28, 2014
Why not have an outdoor WILD MUSHROOM experience? The Nova Scotia Mycological Society is holding its 4th annual foray in Wallace, NS beginning Friday, Sept 26 through Sunday, Sep 28. All are welcome. This event is geared to anyone interested in mushrooms and/or natural history. See the full program, registration and accommodation details at
nsmushrooms.org
.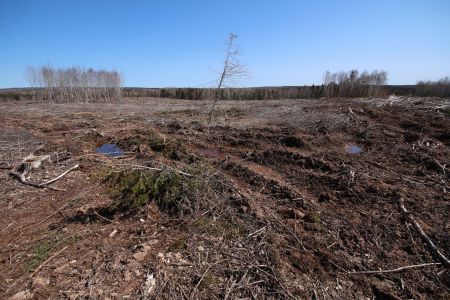 DNR and the disappearing science
Aug. 29, 2014: A Halifax Media Co-op article by Robert Devet asks if our forests are "not a renewable resource after all" and highlights nutrient supply issues as a matter of concern. "Poor soils, acid rain and a history of clearcutting make Nova Scotia's forests vulnerable to aggressive harvesting practices, a biologist argues. Yet the Department of Natural Resources is not releasing a scientific report that identifies where not to clearcut." View
Article
SMU plans would destroy precious woodland
June 21, 2014: According to the
SMU Campus Master Plan
, St. Mary's University plans to construct a large buildling (the "Oaks Complex") in the red oak woodland by The Oaks in south-end Halifax. This remnant natural woodland with elements of old growth forest (multiaged oaks, snags, decaying fallen trees) & abundant witch hazel, indian pipe, mocassin orchid and bird life would be decimated...
View Photo
Wed. May 14, 2014: Flora study of Williams Lake Backlands featured at WLCC AGM
May 7: 2014: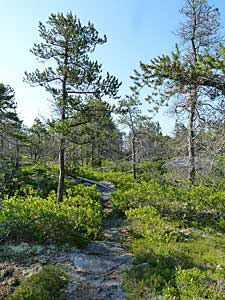 The Annual General Meeting of the
Williams Lake Conservation Company
will be held at 7:00 on Wednesday, May 14th at the Captain Spry Centre, 10 Kidston Rd, Spryfield. NSWFS member David Patriquin will present highlights of the
Ecological Assessment of the Plant Communities of the Williams Lake Backlands
that he and Dr. Nick Hill recently completed on behalf of the WLCC. The AGM is also an opportunity for us to review the year's activities and for you to bring forward your concerns and observations. Everyone is welcome.
Daphne mezereum

on April 28, 2014

Better late than never!

From our Acadian heritage, but strictly ornamental (all parts very poisonous).

Read more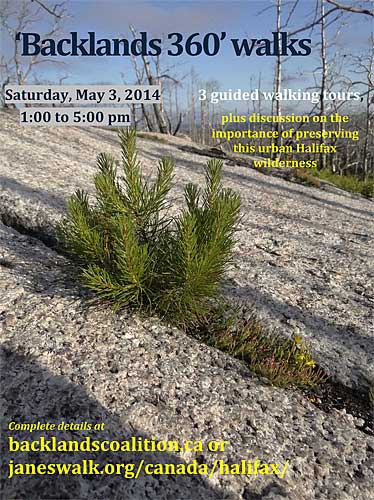 Sat. May 3, 2014: Backlands 360 Walks
The
Backlands Coalition
invites Nova Scotians to participate in an afternoon of guided walks in the Backlands on Saturday May 3, organized as part of the annual Janeês Walk events across Canada and around the world. The NS Wild Flora Society is one of the founding members of the Backlands Coalition.
More about the walks
May 3, 2014: Native Plant Sale at
Irving Botanical Gardens
9 a.m. to noon. See
website
An exceptionally beautiful film about spring in Nova Scotia's vanishing Old Forests
Feb. 24, 2014: We were asked to post a YouTube Version of this film produced by Henri Steeghs & colleagues in 2005. It expresses so well the beauty of spring in our old forests, with scenes that will be very familiar to members of the NS Wild Flora Society. Thanks to David Garbary of St. Francis Xavier for forwarding the film and to Henri Steeghs & colleagues for producing it and sharing it so generously. We hope it will be viewed by all Nova Scotians.
Details and YouTube Link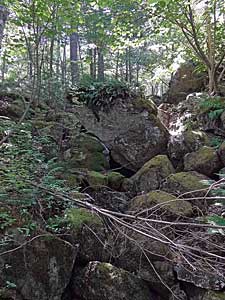 NS Wild Flora Society joins Backlands Coalition
Feb 24, 2014: We became one of nine initial members of the Backlands Coalition which was officially launched on Feb 21, 2014. The Coalition seeks to protect as much land as possible in the Purcell's Cove Backlands, a popular trekking area for NS Wild Flora folks. See
Backlands Coalition
Plan Your Home Rain Garden Workshop
Feb 13, 2014: Got the Mid-Winter Blues? Start your spring rain garden planning with EAC on Tuesday February 18th, 2014 in the Ecology Action Centre kitchen from 7:00 - 8:30 pm.
Read more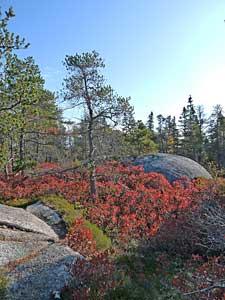 A Rare Plant Community in the Backlands
Feb 13, 2014: The Williams Lake Conservation Company has issued a report which documents the plant communities of the Williams Lake backlands. Prominent amongst them: the rare, Jack Pine/Broom Crowberry barrens. These are well known to NS Wild Flora Society folks because the best stands anywhere occur on the Halifax mainland, but they are nationally unique, ocurring only in a handfull of windswept, exposed barrens along the Atlantic coast of Nova Scotia and at a few sites in Maine and nowhere else.
Read more
New Field Guide to Sedges of Maine
Sep 3, 2013: This 712 page field guide by Matt Arsenault et al. (6 authors) contains "an informative introduction, extensive keys, a glossary of botanical terms, a thorough index, and numerous color photographs of each species." Purchase from the
Maine Natural History Observatory
. It covers a high proportion of the sedges of Nova Scotia, and indicates regional distribution of each species. A copy will be available for inspection at our Sep. 23rd (2013) meeting.
See
News
for older posts.
Recent Additions
Now and in the Future
By knowing our wildflowers we can better preserve them for ourselves and for the future.
Wildflowers are often abundant, but they are not indestructible - many of our loveliest ones are in danger of extinction by our carelessness. This need not happen if we observe the following rules of courtesy:
Do not pick the wildflowers. Enjoy them and leave them for someone else to enjoy. They are perishable and have a very short "indoor" life; also, with many of them, roots as well as seeds are killed when the flowers are picked.


Do not try to transplant them into your garden. Almost without exception, they do not tolerate root disturbance. Your chances of success in raising them domestically are far greater if you begin with seed. Even so, many of them need soil, temperature, and other conditions not available outside of their immediate environment.


Be respectful of them in their natural environment. Do not injure them with fire, tramping, or other thoughtless acts.
The text above is an excerpt from a book published in 1914. Even then, naturalists were concerned for the conservation of the wild flora! Source: Berniece Anderson & Arthur H Holmgren. 1914. Mountain Plants of Northeastern Utah. Logan: Utah State University. A revised edition is available online.